Holidaymakers are facing more travel disruption as airlines prepare to announce a new wave of cancellations next week and new strikes are planned in Spain.
Ryanair crew based in Spain plan to strike for 12 days this month to demand better working conditions, unions have said.
The announcement came on the final day of the crews' current strike, which began on Thursday and forced Ryanair to cancel 10 flights on Saturday.
It comes as Britain's busiest airport Heathrow has to tell officials about any further flight cancellations by Friday – just as some schools begin breaking up for the summer holidays, according to The Daily Telegraph.
The upheaval is in response to an amnesty announced last month that will allow airlines to cancel flights while still retaining take-off and landing slots next year.
In other developments:
• Flights were delayed at Heathrow Airport on Saturday after a technical fault with the airport's fuelling system
• A technical breakdown left at least 1,500 bags stuck at Paris' Charles de Gaulle airport
• A passenger travelling through Heathrow described the scene at baggage claim as looking like "a disaster movie"
• The government reportedly ruled out drafting in the military to help at UK airports after Ireland put the army on standby to assist in case of further disruption at Dublin
Ryanair's next industrial action in Spain will see cabin crew strike on 12-15 July, 18-21 July and 25-28 July across the 10 Spanish airports where Ryanair operates, according to unions.
Spain-based cabin crew at easyJet are also striking for nine days this month for higher pay.
Heathrow delays
On Saturday, flights were delayed at Heathrow Airport after a technical fault with the airport's fuelling system.
The system was closed down for an hour while engineers fixed the fault.
A Heathrow spokesman told Sky News: "A technical fault with the airport's fuelling system has now been resolved.
"We are working with all airport partners to minimise disruption, however flights out of Heathrow this afternoon may be subject to delays.
"We apologise for any impact this has on people's journeys."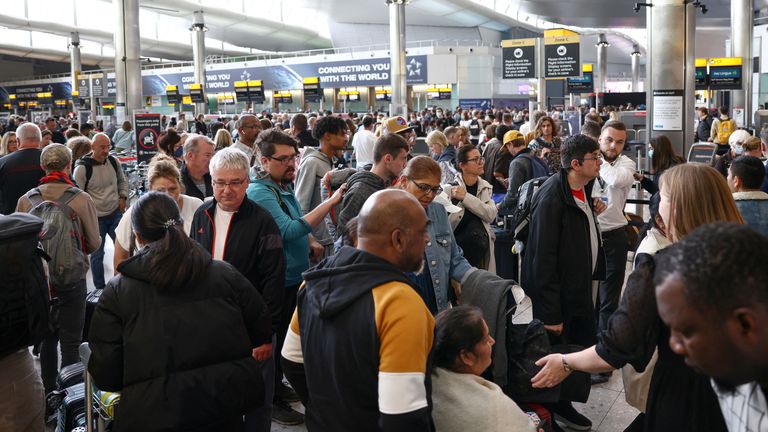 A passenger travelling through Heathrow described the scene at baggage claim as looking like "a disaster movie".
Adam Kent had arrived at Terminal 3 from Orlando, Florida, and said the sight "made a horrendous first impression of chaos" for international visitors.
The 59-year-old said: "(There was) lost luggage everywhere, stacked between baggage belts everyone stepping over it and no one doing anything about it.
"Being brutally honest, it looks like a serious health and safety issue.
"No one visible on the ground to explain the carnage or sort out the mess, it seems like lots of luggage has not arrived with passengers and just been dumped."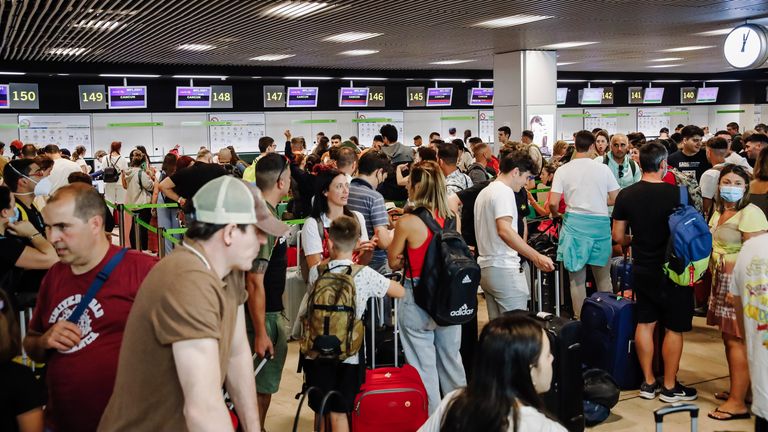 Flying is 'too cheap', says Ryanair boss
The boss of Ryanair has claimed flying has become "too cheap" and warned fares will rise for the next five years.
Michael O'Leary told the Financial Times that high oil prices and environmental charges were expected to push the average Ryanair fare up from €40 (£35) to between $50-60 (£43-£52) over the medium term.
"I find it absurd every time that I fly to Stansted, the train journey into central London is more expensive than the air fare," he told the newspaper.
Read more:
What are my rights if strikes hit the summer holidays at Heathrow?
Airlines and airports unable to say when threat to summer holiday getaways will end
Travellers have already been hit by months of cancellations, delays and missing baggage.
Staff shortages in ground handling, airports, and flight crew, have presented major challenges as the aviation sector struggles to move into the peak season after two years of coronavirus pandemic-related turbulence.
Thousands of flights have been cancelled across various airlines over recent weeks, as capacity fails to keep up with demand – a problem also being seen across Europe.
At France's Charles de Gaulle airport, airlines have been working to deliver luggage to passengers around the world after a technical breakdown left at least 1,500 bags stuck at the Paris air hub.
It comes as airport workers are on strike at French airports to demand more hiring and more pay to keep up with high global inflation.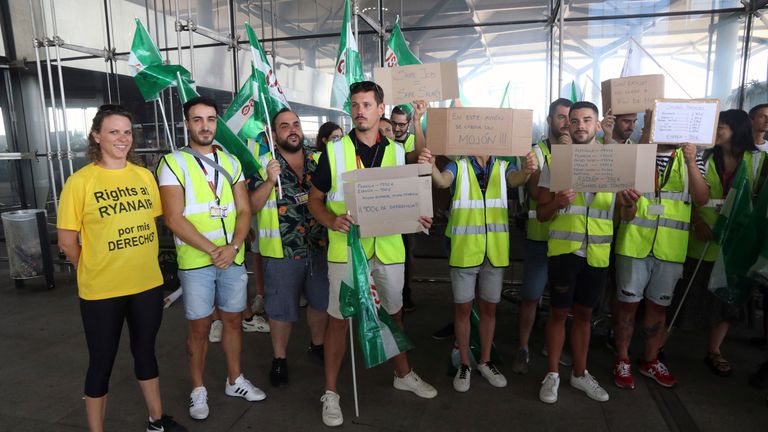 The Department for Transport has temporarily relaxed rules around airport slots to help airlines avoid last-minute cancellations due to staff shortages.
It said airlines will be given a short window, described as an "amnesty", to hand back take-off and landing slots they are not confident they will be able to operate for the rest of the summer season.
It is hoped that being able to freely adjust schedules will allow airlines to run only the flights they can fully staff, ending the reports of passengers arriving at the airport to find their flights cancelled at the last minute.
On Thursday, Heathrow asked airlines to remove 30 flights from the morning peak schedule, saying that it was expecting "higher passenger numbers than the airport currently has capacity to serve".
Many passengers have also had luggage delayed or missing.
There is also the looming threat of industrial action, with hundreds of Heathrow-based check-in staff and ground handling agents voting last month for industrial action over pay.
Follow the Daily podcast on Apple Podcasts,  Google Podcasts,  Spotify, Spreaker
A spokesperson for British Airways said the slot amnesty and consequent cancellations will "help us to provide the certainty our customers deserve by making it easier to consolidate some of our quieter daily flights to multi-frequency destinations well in advance".
They said that the airline "welcomes these new measures", adding: "Slot alleviation allows airlines to temporarily reduce their schedules but still retain their slots for the next year to maintain networks and provide consumers with certainty and consistency."