Pressure on the NHS is worse now than it was at the peak of the COVID-19 pandemic, a leading doctor has said.
Dr Tim Cooksley, president of the Society for Acute Medicine, said "urgent action" is required to bring the NHS back from the brink.
Speaking to Sky News, he said the National Health Service is under the most pressure it has ever experienced, including difficult winter periods.
"There has never been a greater recognition amongst all staff that our current situation is worse than it has ever been," Dr Tim Cooksley said.
"And I know that people watching this will say, 'well every winter you have doctors on that say that this winter is terrible, that it's normal winter pressures'.
"But there is a complete acceptance from all colleagues now that this is different from all previous winters – and we need urgent action now."
He added: "This situation is much worse than we experienced under the COVID pandemic at its peak.
"And so we need to think carefully about how we can manage this and I think we need some urgent actions."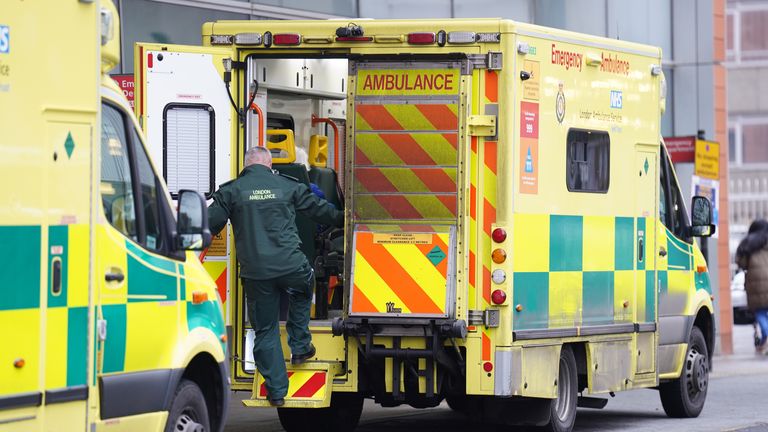 The head of the NHS Confederation, which represents NHS trusts and healthcare leaders, said most of the health service was under "unbearable strain".
Its chief executive Matthew Taylor told Sky News: "I speak to NHS leaders every day and a lot of them, if not most of them, say this is the toughest winter they've ever dealt with. We cannot go on like this.
"Most parts of the health service are under an unbearable strain and that does mean that we're not able to provide service as usual.
"We have to focus all our energies on the most urgent and intense needs, and that's why you're seeing the declaration of critical incidents in so many places."
Which hospital trusts are dealing with critical incidents?
Sky News understands that at least six hospital trusts are currently dealing with critical incidents, which means they cannot function as usual due to extraordinary pressure.
These critical incidents cover Derbyshire, Nottingham, Dorset, Hampshire and the Isle of Wight, Buckinghamshire and Staffordshire.
And at least 55 NHS trusts have publicly stated they are struggling to cope with the demand for their services.
'We cannot treat people in car parks'

The president of the Royal College of Emergency Medicine, Dr Adrian Boyle, said on New Year's Day that between 300 and 500 people are dying each week because of delays in emergency care.
He added that a severe flu outbreak, made worse by a lack of immunity in people due to COVID isolation measures, has meant that bed occupancy is at a record level.
Nurses also went on strike over a dispute about pay and conditions for two days in December as did paramedics, and the British Medical Association said it will ballot junior doctors this month.
Government minister Robert Halfon acknowledged the pressures facing the health system but told BBC Radio 4's Today programme: "I'm absolutely clear that the prime minister treats this as a top priority.
"We're increasing the NHS capacity by the equivalent of 7,000 beds, spending an extra £500 million to speed up hospital discharge and improve capacity."
The education minister admitted that more needed to be done but defended the government's response.
"The government is putting a lot of funding and doing everything possible," he added.
"We know, of course, that many of these problems have been caused by the pandemic and the pressures on the NHS that we've seen over the past few years."