Rishi Sunak must "step up to the plate" and allow ministers to get around the table to negotiate with union leaders, the boss of the TUC has said – as he accused the PM of using the independent pay review bodies as a "human shield".
TUC general secretary Paul Nowak told Sky News the PM must "facilitate those talks" between union representatives and government officials and allow a "fair settlement on pay" to be reached.
"I think he's forgotten the value of sitting down and reaching an agreement and taking ideas from people outside his own cabinet," Mr Nowak said.
"And frankly, you know, I think it'd be really good for Rishi Sunak to talk to our unions, but also to talk to some of those frontline paramedics, those physiotherapists, the teachers in classrooms, civil servants, people who, for the last decade, have been placed under real pressures on workloads who feel they are at breaking point.
"Let the prime minister talk to those workers and understand their concerns and their issues."
Union leader calls for strike summit with PM – politics latest
Noting that "the only thing that isn't going up" is workers' wages amid the rising cost of living, the Trades Union Congress boss continued: "The government has been using the independent review bodies as a human shield – and I think is in real danger of discrediting those bodies.
"When those bodies met and made their recommendations, we didn't have inflation running at 10%/11%."
He added: "So listen, let's not hide behind the pay review bodies. What we need is the government to sit around the table with our unions and reach an agreement."
In a hard-hitting letter to the PM, Mr Nowak said public services were in crisis after years of "underfunding and understaffing" – and he called for a complete change in government direction.
He said "we cannot fix the staffing crisis in our schools, hospitals and elsewhere if we do not fix the underlying causes".
The TUC boss said unions worked closely with Mr Sunak during the pandemic to deliver the furlough scheme and protect millions of jobs, adding: "That's the kind of mature approach we need now."
Mr Nowak's plea comes as rail workers continue a 48-hour strike, with more stoppages planned this month in the transport industry and civil service.
Thousands of nurses across the country staged the biggest-ever strike in the history of the NHS, walking out around just before Christmas – and more are on the cards.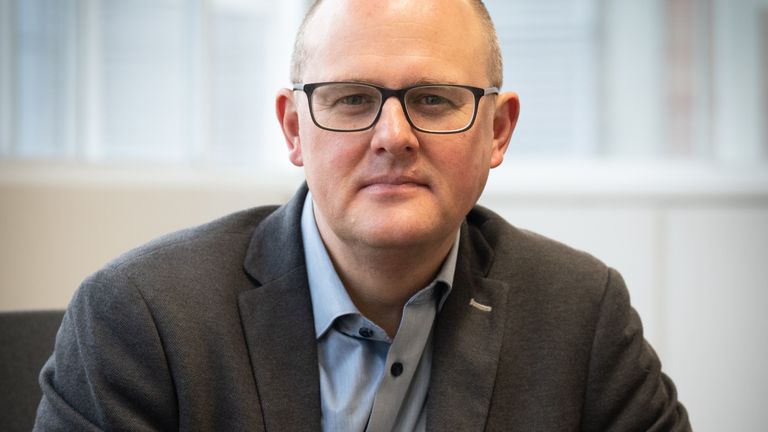 Explainer: New year, new wave of strikes – Here's who is taking action, when and why
Around half of Britain's railway lines are closed and only a fifth of services are running as tens of thousands of workers at Network Rail and train operators walk out on the second day of the strike, with another to begin on Friday.
Today, the DVSA driving examiners' strike starts in London, the South East, South Wales and the South West, while traffic officer service workers at National Highways will continue their walkout.
London bus workers at Abellio will also begin a two-day strike – the first in a series of action planned by the group throughout January.
People have returned to work – but no-one is getting anywhere fast during the rail strikes

Read more: Network Rail says it is 'on the right path' towards securing deal to stop walkouts
Ambulance staff are set to walk out again on 11 and 23 January following action before Christmas, while nursing staff will begin again on 18 and 19 January.
Members of the EIS, Scotland's largest teaching union, and two other unions are also due to walkout on 10 and 11 January, as well as on 16 further days spreading into February.