Two Britons who were reported missing in Ukraine have been named.
Andrew Bagshaw and Christopher Parry, who are volunteers helping with civilian evacuation and humanitarian efforts in the war-torn Donetsk region, were reported missing by the area's police department.
Mr Parry previously spoke to Sky News about his time evacuating people near the front line, often in scary conditions as Russian artillery bombarded Ukrainian positions.
'The whole ground is covered in corpses' – Ukraine war latest
The pair were last seen leaving Kramatorsk for the embattled city of Soledar at 8am last Friday, and contact was then lost.
They were reported missing at about 5.15pm the following day.
Officers in Donetsk have said they are carrying out investigative and operational measures to establish their location.
An FCDO spokesperson said: "We are supporting the families of two British men who have gone missing in Ukraine."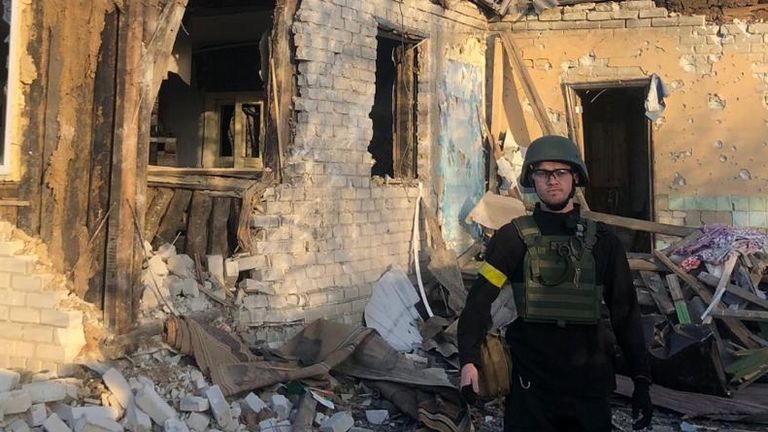 Originally from Cornwall, he had been working as a running coach in Cheltenham when Russia invaded on 24 February.
He told Sky News that he knew he had to go help.
His daring actions on the front line saw him evacuating residents from the besieged city of Severodonetsk before it fell in June and later operating east of Lyman.
Situation in Soledar as Ukrainian forces seek to repel Russian attacks
A small salt-mining city, Soledar has seen fierce fighting as Russian forces carry out assaults – perhaps in the hopes of escalating pressure on nearby Bakhmut.
Volodymyr Zelenskyy praised the Ukrainian soldiers holding off the attack by Kremlin forces, saying they had helped buy time for Ukraine to gain strength.
Speaking on Monday evening, he added: "And what did Russia want to gain there? Everything is completely destroyed, there is almost no life left.
"And thousands of their people were lost: the whole land near Soledar is covered with the corpses of the occupiers and scars from the strikes. This is what madness looks like."
Read more:
UK considering supplying Ukraine with British tanks
Ukraine denies Russian missile strike claims