Home Secretary Suella Braverman has described street demonstrations in support of Palestinians as "hate marches".
It comes as five people have been charged after a pro-Palestinian protest took place in London on Saturday – the second weekend in a row during which marches have been held.
When questioned about the demonstrations, after an emergency COBRA meeting chaired by Rishi Sunak, Ms Braverman said: "To my mind there is only one way to describe those marches: they are hate marches.
"What we've seen over the last few weekends, we've seen now tens of thousands of people take to the streets following the massacre of Jewish people, the single largest loss of Jewish life since the Holocaust, chanting for the erasure of Israel from the map."
Israel-Gaza latest: Hamas releases hostage video labelled 'cruel' by Netanyahu
She said police are concerned there are a "large number of bad actors who are deliberately operating beneath the criminal threshold in a way which you or I or the vast majority of the British people would consider to be utterly odious".
Thousands protest for ceasefire

In response, Labour backbencher, Azal Khan, said the home secretary's labelling of the marches was "disingenuous, dangerous and deeply contradictory to the right we all hold to protest".
The number of people gathering in the capital in protest at the Israel-Hamas war over the last two weekends has totalled about 100,000.
On Saturday, the force arrested a total of nine people – two on suspicion of assaulting police officers and seven for alleged public order offences – as Gaza is besieged by Israel and coming under aerial bombardment.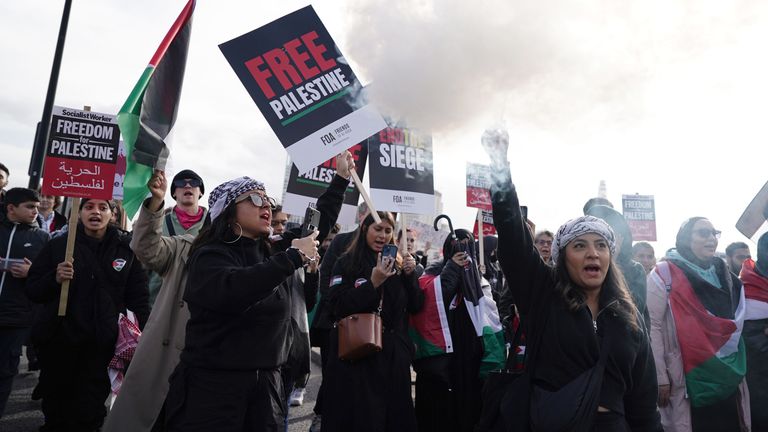 Two other women were held on suspicion of inciting racial hatred on Sunday morning following an incident in Trafalgar Square.
UK terror threat level not being hiked
Following discussions on Monday, the terror threat level in the UK is not yet being raised.
Ms Braverman said the Joint Terrorism Analysis Centre (JTAC) is keeping the threat level from international terrorism at "substantial".
The decision was made despite Metropolitan Police Commissioner Sir Mark Rowley warning on Sunday that terrorism is being "accelerated" by events in the Middle East, as he raised concerns about "state threats from Iran".
Read more from Sky News:
Israeli military operations in Gaza 'will escalate'
Britons trapped in Gaza 'could be classed as hostages'
Inside Gaza hospital where hundreds shelter
Anger was directed towards Sir Mark's police force after it said it had not identified any offences from a clip of a protest in which a member of the crowd could be heard chanting the word "jihad".
The chant "from the river to the sea, Palestine will be free" has also been used.
Some interpret it as a call of support for the Palestinian people, and others claim it is a demand for the dismantling of Israel, with the Anti-Defamation League saying it is an antisemitic slogan.
'UK could be sharper in how we deal with extremism'

Ms Braverman has also previously branded the chant as antisemitic and urged police to take a "zero tolerance approach", while Downing Street didn't go quite as far, saying it was "a deeply offensive chant to many" on Monday.
Sir Mark added that while the UK has robust laws in dealing with hate crime, there is a "gap" when it comes to extremism.
Ms Braverman said that if there was a need for the law to change, she "would not hesitate to act".