A year ago, Matthew Perry published his memoir.
Friends, Lovers And The Big Terrible Thing documented Perry's rise to stardom, his decade as one sixth of the biggest TV show in the world, and his alcohol and drug addictions.
Following his death at his Los Angeles home aged 54 on Saturday, several of his friends and co-stars have referenced it.
Page Brewster, who played Chandler's love interest Kathy on the show, wrote in her tribute to him: "Please read his book. It was his legacy to help."
Actor Hank Azaria, who played Phoebe's boyfriend David in Friends, described it as "devastating, just physically, emotionally, mentally, psychologically" – and said he "had to pick it up and put it down like 11 times it was so painful for me to read".
Here are 10 quotes from the book, released in 2022 by Headline Publishing Group, which reveal more about the star's life.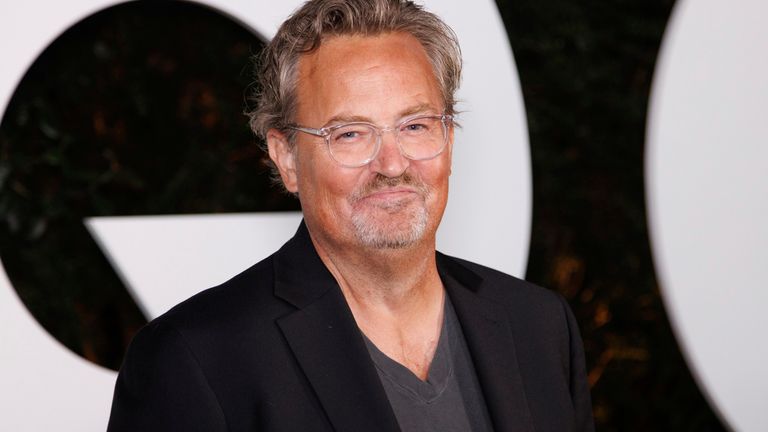 "I have spent upward of $7m (£5.8m) trying to get sober. I have been to 6,000 AA meetings… I've been to rehab fifteen times"
Reflecting on his own constant battle with addiction, Perry wrote about how his father was able to give up alcohol after just one drunken night, when he "fell in the bushes or something".
The star said after going on a walk to think about it he never drank again.
By contrast, Perry revealed how much time and money he spent trying to stay sober.
Remembering Matthew Perry

"If I didn't have alcohol to soothe my nerves and help me have fun, I would have leaped off a tall building sometime in my twenties"
In the book, Perry asks himself if he regrets auditioning for Friends and drinking heavily throughout his time on the show, to which he replies no.
He spoke widely about his anxiety over not being funny enough to get laughs from the live TV audience.
During Friends: The Reunion he said: "To me, I felt like I was gonna die if they didn't laugh", admitting that his mindset was "not healthy for sure" but there were times when failing to make people laugh would cause him to "sweat and just go into convulsions".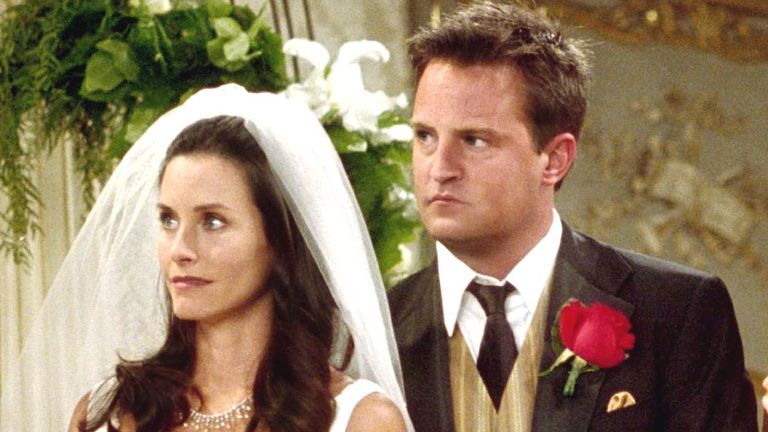 'I married Monica and got driven back to the treatment centre'
The book reveals how Perry was living in a treatment centre in Malibu when the episode of Chandler and Monica's wedding was filmed in the early 2000s.
He was allowed to return to set with his "sober technician" to shoot the two-part episode, which came at the end of season seven, before he was driven back.
Perry also wrote that Jennifer Aniston said she was "mad at him" when he turned up – having previously smelled alcohol on him during filming.
But after telling her what he'd been through – the pair hugged, he wrote.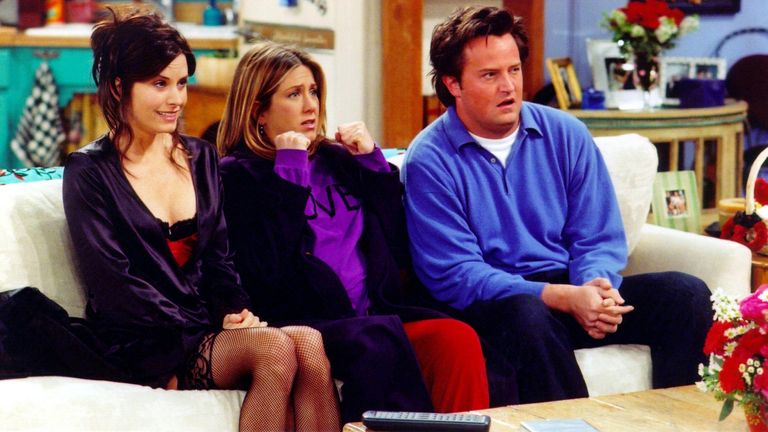 'My weight varied between 128 pounds and 225 pounds during the years of Friends'
Between 1994 and 2004 when Friends was on air, Perry's weight varied dramatically.
He recalled wearing clothes that looked "three sizes too big" for him in one of the Chandler-Monica engagement episodes.
The star explained it was because he had lost around 50lbs (3st 8lb) in between filming the season six finale and season seven premiere – but was wearing the same clothes in both.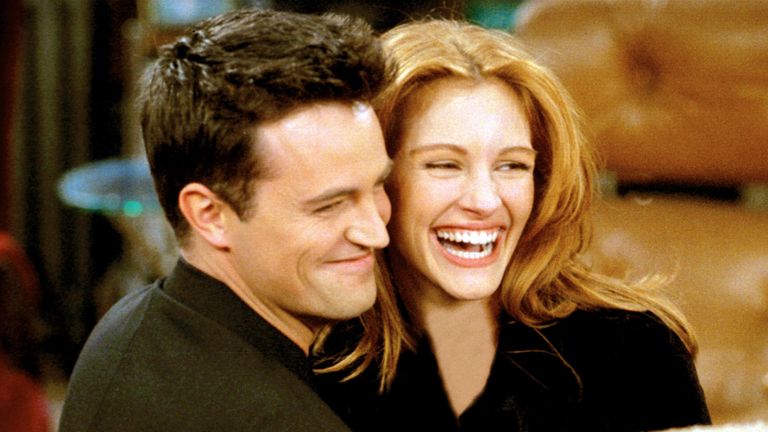 'Instead of facing the inevitable agony of losing her, I broke up with the beautiful and brilliant Julia Roberts'
Perry dated actress Julia Roberts briefly in 1995 – soon after Friends started.
He said that one of the show's creators Marta Kauffman asked him to ask her if she would cameo in the show.
When she agreed to appear as Chandler's old school friend who he rekindles a romance with, the two flirted in real life – over fax.
But claiming he could "never be enough" for her, he ended things with her.
He said in the book that he watched her win an Oscar for her part in Erin Brockovich while he was in rehab.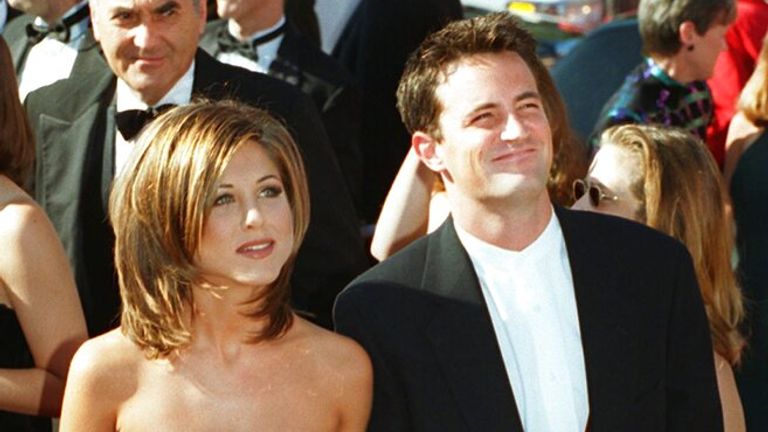 'We can't be friends!' – to Jennifer Aniston
Perry revealed in his memoir that he tried to ask Jennifer Aniston out when he met her three years before they were cast as Chandler and Rachel.
He recalled being "immediately taken with her" but she declined his offer, saying they could be friends instead.
Noting the irony of the comment, he exclaimed: "We can't be friends!"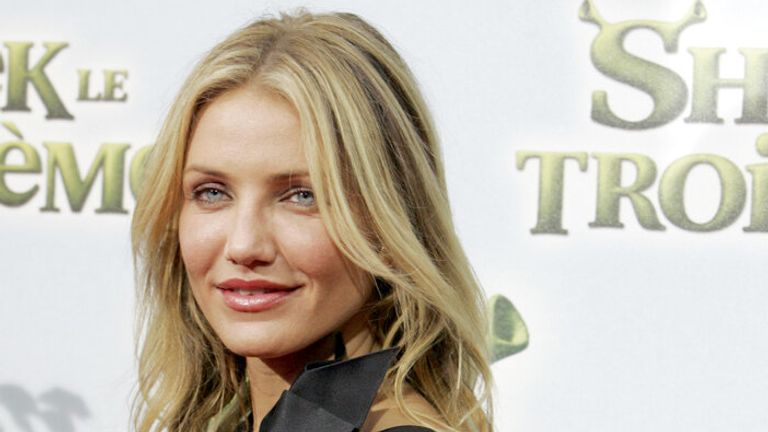 'I'd just been punched in the face by Cameron Diaz'
Perry recalled going to a dinner party with actress Cameron Diaz in 2007.
Although it was supposed to be a date, the star claimed she made it clear she didn't like him.
Then at one point during a game of Pictionary – instead of trying to punch him on the shoulder as a joke, she missed and hit him "smack in the side of my face".
'I had terrible luck with women and I was not comfortable in any silence at all'
In one section of the book, Perry described a lunch when the Friends co-creators Marta Kauffman and David Crane took the cast out to get to know them better ahead of filming the pilot.
He told them he had a bad track record with dating and that he had to break every silence with a joke.
This, he said, "became a built-in excuse for Chandler Bing to be funny… and Chandler wasn't much good with women either".
Read more:
Matthew Perry obituary
17 takeaways from the Friends reunion
In their tribute to him, Kauffman, Crane and director Kevin Bright recalled how similar Perry and his character were.
"It's a cliche to say that an actor makes a role their own, but in Matthew's case, there are no truer words," they wrote.
"From the day we first heard him embody the role of Chandler Bing, there was no one else for us."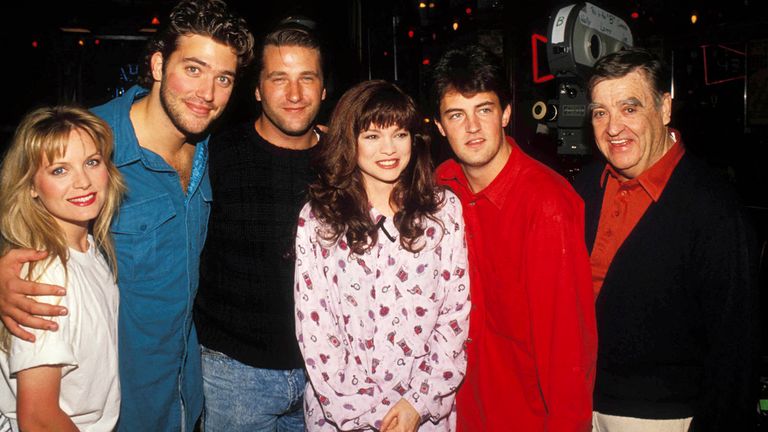 'I could not handle that you got rich and famous doing a role that I turned down' – Craig Bierko about Perry
Actor Craig Bierko was the Friends writers' original choice to play Chandler Bing, but he turned the part down to star in another pilot – ironically named Friends Like Us.
Having met him on set of the failed sitcom Sydney, Perry encouraged Bierko to go for Friends Like Us.
When Perry was chosen to play Chandler instead and Friends became an instant hit – Friends Like Us never made it beyond the pilot.
In his memoir, Perry claimed his friend refused to talk to him for years – but they made up eventually.