WhatsApp messages sent at the height of COVID paint a picture of how senior officials really felt about the government's handling of the pandemic.
The exchanges have been shared as part of the COVID inquiry amid criticism that major decision-making may have happened over WhatsApp rather than through normal processes.
But not all the messages sent will be seen by the inquiry. A senior civil servant turned on a "disappearing message function" on a group chat titled "PM Updates" on 15 April 2021 – but told the inquiry he could not remember why.
Follow latest: Boris Johnson's top aides give evidence
Cabinet Office is 'terrifyingly s***' – Dominic Cummings
On 12 March 2020, Dominic Cummings – former chief adviser to Boris Johnson – texts the prime minister saying: "We've got big problems coming – CABOFF (Cabinet Office) is terrifyingly s***, no plans, totally behind the pace."
"We must announce TODAY – not next week – 'if feel ill with cold/flu stay home'," he adds.
"Some CABOFF want delay cos [sic] haven't done the work and don't work weekends."
PM 'melting down' and going into 'Jaws mode'
Mr Cummings sent a series of messages to Lee Cain, the Downing Street director of communications, from inside a meeting with Mr Johnson and Rishi Sunak.
He says the prime minister was "melting down" and going into "Jaws mode".
By that he meant Mr Johnson was acting like the mayor in the film Jaws, who thinks the beaches should be kept open despite shark attacks.
"I've had to sit here for 2 hours just to stop him saying stupid s***," Mr Cummings says.
He adds later: "It's only a matter of time before his babbling exposes fact he doesn't know what to say."
Boris Johnson 'cannot lead', cabinet secretary says
In one particularly disparaging message from September 2020, cabinet secretary Simon Case says Mr Johnson "cannot lead and we cannot support him in leading with this approach".
Mr Case tells the WhatsApp group, which includes Mr Cummings, "I am at the end of my tether".
"He changes strategic direction every day (Monday we were all about fear of virus returning as per Europe, March etc – today we're in 'let it rip' mode cos (sic) the UK is pathetic, needs a cold shower etc.)
"He cannot lead and we cannot support him in leading with this approach.
"The team captain cannot change the call on the big plays every day. The team can't deliver anything under these circumstances."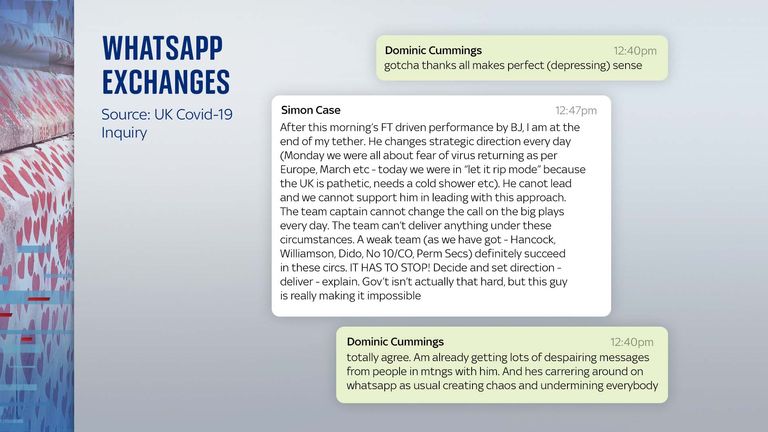 Mr Case goes on to admonish a "weak team", appearing to name former health secretary Matt Hancock and former education secretary Gavin Williamson, saying we "definitely cannot succeed in these circs (sic). IT HAS TO STOP!".
He adds: "Decide and set direction – deliver – explain. Gov't isn't actually that hard but this guy is really making it impossible."
Mr Cummings replies: "Totally agree, am getting lots of despairing messages from people in [meetings] with him."
"And he's careering around on WhatsApp as usual creating chaos and undermining everybody."
'We look like a terrible, tragic joke'
At another point in the WhatsApp group, Mr Cummings says: "As always, discussions with these ministers is moronic.
"They cannot understand priorities."
Later in the conversation, Mr Case says the government "doesn't have the credibility needed to be imposing stuff within only days of deciding not to".
"We look like a terrible, tragic joke."
Mr Cain, the Downing Street director of communications, responds with a trolley emoji.
Mr Cummings told the inquiry Mr Johnson was described as an indecisive "trolley" by "pretty much everyone", a reference to his habit of veering from one decision to another.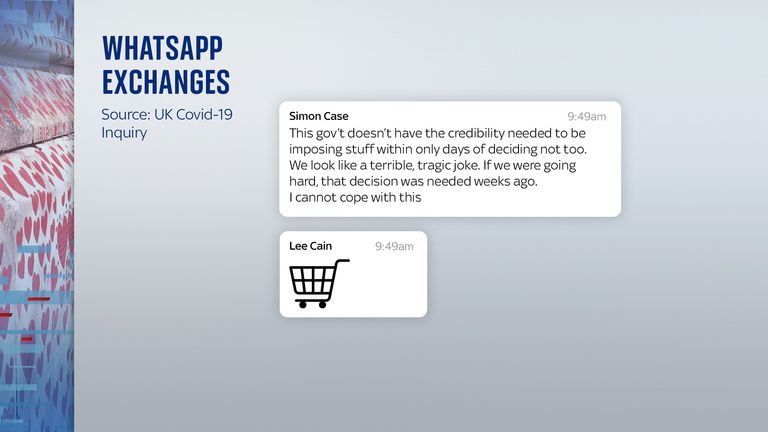 Read more:
Former Johnson aide paints a 'chaotic picture' of Downing St
Questions piling up at COVID inquiry – and it's likely to get worse
Boris Johnson asks if government 'believes in long COVID'
In February 2021, Mr Johnson wrote in a WhatsApp message: "Do we really believe in long COVID? Why can't we hedge it more? I bet it's complete Gulf War Syndrome stuff."
Four months prior, he had described the condition as "b*******", writing that comment in a document next to a description of the symptoms.
Boris Johnson's wife Carrie was 'real person in charge'
In messages understood to have been from 14 October 2020, Mr Case writes: "Am not sure I can cope with today."
In a discussion about the prime minister's instructions about regional "circuit breaker" lockdowns with former health secretary Matt Hancock, Mr Case says "I am going to scream".
Mr Cain replies: "Wtf are we talking about."
Responding, in an apparent reference to Mr Johnson's partner Carrie Johnson, Mr Case says: "Whatever Carrie cares about, I guess."
He adds: "I was always told that Dom [Dominic Cumming] was the secret PM. How wrong they are. I look forward to telling select cttee tomorrow – 'oh, f*** no, don't worry about Dom, the real person in charge is Carrie'."
In the same series of messages, Mr Cain says: "Also she doesn't know wtf she is talking about either. Jesus."