The first British nationals have left Gaza and crossed the Rafah border into Egypt, the Foreign Office has said.
UK teams are on the ground providing assistance, but the Foreign Office did not specify how many Britons had crossed the border.
A total of 76 wounded people and their companions left Gaza in ambulances today, according to a spokesman for the Palestinian Crossings Authority.
Around six buses carrying 335 foreign nationals also departed into Egypt, the spokesman added.
The Rafah border will be open again on Thursday to allow foreign passport holders out of Gaza, the authority confirmed.
Follow live: Israel-Gaza latest updates
Foreign Secretary James Cleverly said the crossings of the first British nationals was a "hugely important first step".
He said the UK is working with Egyptian and Israeli authorities to ensure the crossing stays open, so all Britons can get out to safety in the coming days.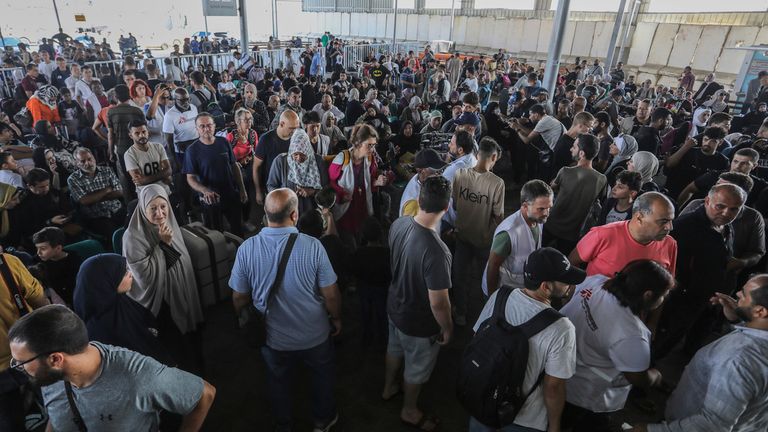 It comes as a UK-based academic and her five children were unable to leave Gaza for Egypt as the first group of injured evacuees moved over the Rafah border.
Dr Emilee Rauschenberger, 42, told Sky News that her family came to the border as they got notice from the UK's Foreign Office that the crossing might be opening.
She said the family wanted to travel back to Manchester, having travelled to Gaza to visit her husband's family three weeks ago.
"We want to leave Gaza and go back to Britain," she said. "A few days after the war started we had to leave our homes and move to Khan Younis. We have been displaced the whole time."
In other developments:
• The UK's foreign secretary says teams are ready to assist British nationals in Gaza as soon as they are able to leave;
• The Israel Defence Forces says 16 of its troops have been killed in Gaza since Tuesday;
• Hamas claims seven hostages have been killed during a strike on a refugee camp in Gaza;
• Around 51 trucks carrying aid have arrived in Gaza.
'Lots of bombing' and daily struggles for food
Dr Rauschenberger has worked for the education organisation, the Queen Rania Foundation, in Jordan for two years.
She said her family, including her five children – aged 14, 12, 10-year-old twins and a four-year-old – have had no electricity and no sanitary drinking water while in Gaza.
No humanitarian aid was delivered to the area they were in, and they had to go out daily to find food, she said.
"At night there is lots of bombing, especially in the last week. It's very difficult. I am just waiting with my five kids and my husband to go," she said.
Dr Emilee Rauschenberger on trying to leave Gaza

Earlier on Wednesday, the Foreign Office said in a text to Britons in Gaza: "Once we receive confirmation that you are permitted to cross the Rafah border, we will send a message to ask you to travel to the crossing.
"Crossings are expected to take place across a number of days."
It said it has given a full list of names of British nationals and dependants in Gaza to Israeli and Egyptian authorities.
'I just want to come home'
Another who didn't cross the border today was 29-year-old Zaynab Wandawi, who is in Gaza with 10 members of her family.
Speaking to Sky News, Ms Wandawi's mother, Lalah Ali Faten, said the family travelled in hope to the border today but didn't find their names on the list of those permitted to cross into Egypt.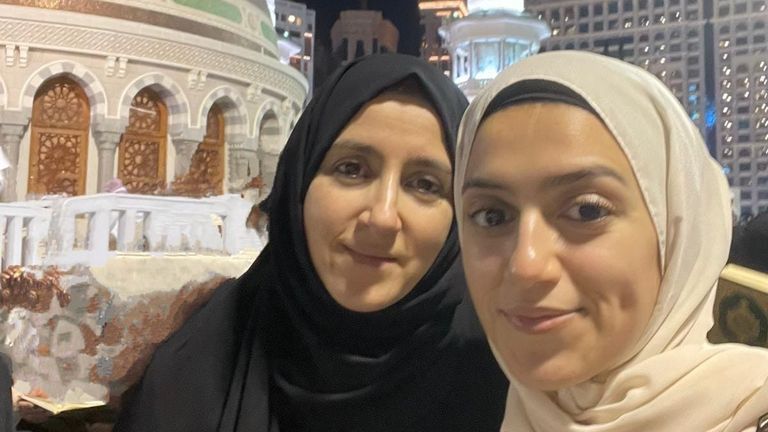 "They are working on a list of names, and we are very hopeful that their names will be on tomorrow's list," Ms Faten said.
Giving an update on her daughter's condition from Manchester, Ms Faten said the family ran out of drinking water yesterday and have been bathing in seawater.
"The last message I got from her was her saying 'Mum, I just want to come home'," Ms Faten said.
'Be ready to go'
Meanwhile, Dr Abdel Hammad, a surgeon at the Royal Liverpool University Hospital, said he was told "be ready to go" by the Foreign Office as he waited to cross the border into Egypt.
He arrived in Gaza on 6 October, a day before the attack on Israel by Hamas.
Dr Hammad told Sky News that he was about 5km from the Rafah crossing, and was waiting to be allowed through.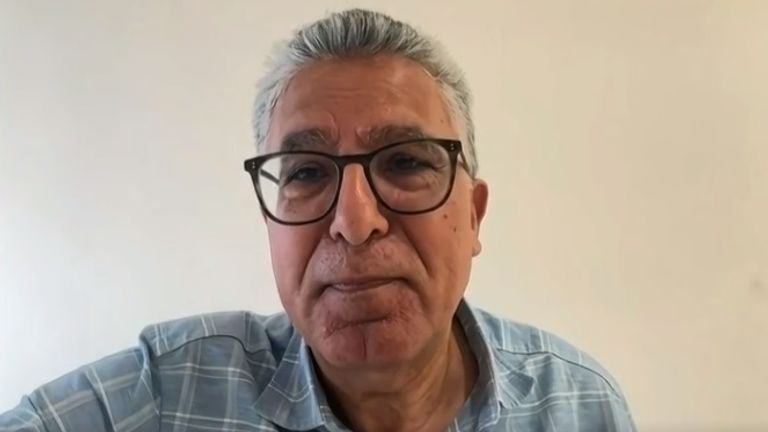 President Joe Biden said American citizens were expected to be among the first group of foreigners able to leave Gaza for Egypt via the Rafah crossing today.
"We expect American citizens to exit today, and we expect to see more depart over the coming days," he wrote on social media platform, X.
A deal, mediated by Qatar, was struck between Egypt, Israel, and Hamas, to open the crossing to foreign and dual nationals currently trapped in Gaza.
Read more:
What is the Rafah border crossing and who controls it?
How far has Israel got into Gaza?
Crowds enter Rafah crossing from Gaza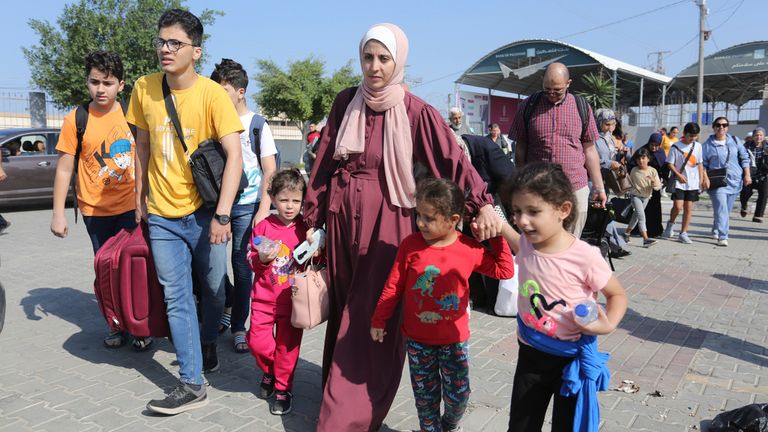 Footage broadcast on Egyptian state TV – and seen by Sky News – showed injured people being transported in ambulances across the border from the Gaza Strip.
Egypt's health ministry said a field hospital has been set up in an Egyptian town near the crossing.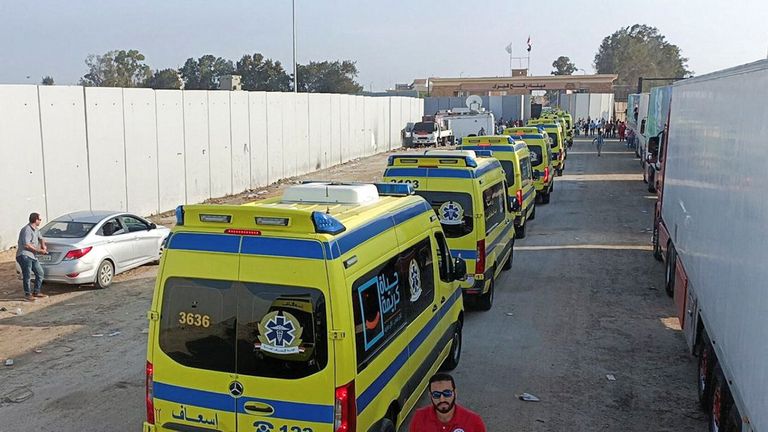 The Italian foreign minister also confirmed four Italian citizens, one of whom was accompanied by his Palestinian wife, were also among those who have already left Gaza.
Rafah is Gaza's only gateway to the rest of the world not directly controlled by Israel.
It is under the control of Egypt as part of an agreement with Israel and the European Union.
However, it has never been a normal, fully open border crossing and is tightly controlled by authorities in Cairo.