Boris Johnson's government displayed an "unbelievably bullish" approach to coronavirus early in the pandemic and sat "laughing at Italians" in meetings, a former civil servant has said.
The former prime minister was "confident the UK would sail through" the outbreak of the disease and warned against "over-correcting" on something he thought "was unlikely to have a huge impact and for which – in any case – we were well prepared", according to Helen MacNamara.
Ms MacNamara, who served as deputy cabinet secretary during the pandemic, told the COVID inquiry there had been a "jovial tone" in early cabinet meetings and that "sitting there and saying it was great and sort of laughing at the Italians was just … it felt how it sounds".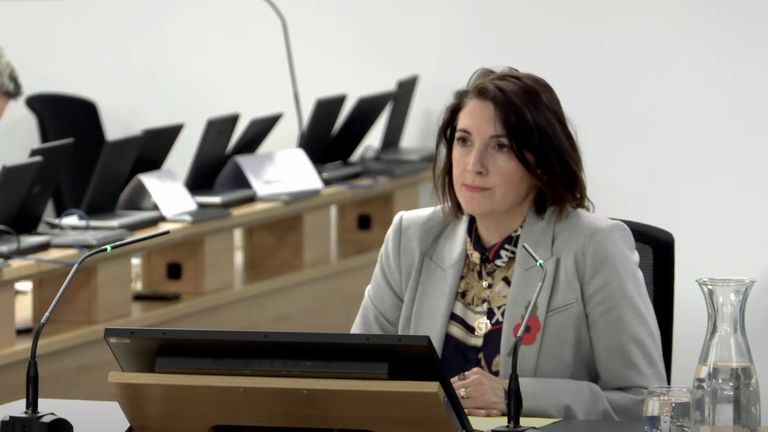 She said that her "injections of caution" in January and February 2020 "did not register" with Mr Johnson.
Read More:
Key WhatsApp messages from the COVID inquiry
Johnson suggested he thought COVID was 'nature's way of dealing with old people'
No 10 in 'complete chaos' as COVID hit and there was 'no plan' for shielding
She recounted a "scary experience" on 13 March when she realised just how much trouble the UK was in and relayed that to the prime minister's top team in no uncertain terms.
The alarmed exchange – 10 days before the first lockdown – followed a conversation with Department for Health official Mark Sweeney who "had been told for years that there is a whole plan for this (pandemic)".
"But there was no plan", he told her.
Ms MacNamara then walked into the prime minister's study where Dominic Cummings was sat with other senior officials – and told them: "I think we're absolutely f****d, I think this country is heading for a disaster, I think we're going to kill thousands of people."
Mr Cummings's reply was: "I think you are right. I think it is a disaster." He told her he would speak to the prime minister the next day to sketch out a Plan B – diverging from the previous plan to manage COVID in the community.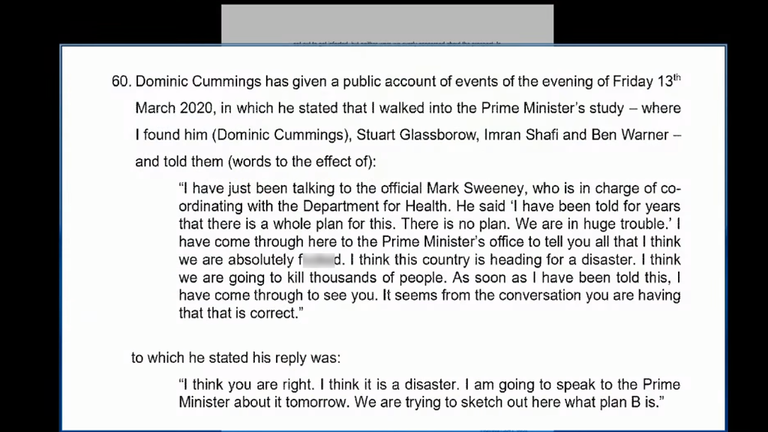 The events were recounted in a statement from Mr Cummings, Downing Street's former top aide, which Ms McNamara said was accurate.
She told the inquiry: "I'd spent most of the day that Friday … really trying to gauge how much of a problem I thought we had.
"It was a sense of foreboding, like I hope nobody sitting in that office ever has again actually. It was a very, very scary experience.
"I felt that it wasn't in any doubt in my mind at that point that we were heading for a total disaster and we had to do everything in our power to make it impact as little as possible in the time we had available in the circumstances we were in."
The inquiry also heard:
It would be "hard to pick one day where the regulations were followed" in Downing Street;
There was an "absence of humanity" in some government decisions, such as over prisons;
Westminster and Whitehall are "endemically sexist" but this got worse during the pandemic;
There was a "toxic" culture under Boris Johnson in Whitehall;
Matt Hancock displayed "nuclear levels" of overconfidence and a pattern of reassuring colleagues the pandemic was being dealt with in ways that were not true
The COVID inquiry is currently examining government decision-making during the pandemic, and has this week heard from a number of senior government figures including Mr Cummings and former communications director Lee Cain.
The officials have painted a picture of chaos, dysfunctionality, incompetence and backstabbing at the heart of government during the COVID crisis.
'Toxic culture in Downing Street'
Ms MacNamara said there "there was definitely a toxic culture".
She said the "horrible" foul-mouthed messages sent by Mr Cummings about her, including calling her a ****, were "both surprising and not surprising to me, and I don't know which is worse".
She added: "It is disappointing to me that the prime minister didn't pick him up on the use of some of that violent and misogynistic language."
She also said that Westminster and Whitehall are "endemically sexist" environments but No 10 and the Cabinet Office became even worse during the pandemic when women had to "turn their screens off" on Zoom meetings or were "sitting in the back row" and "rarely spoke".
Govt displayed 'nuclear levels of confidence despite no plan'
Former health secretary Matt Hancock also came in for criticism during the hearing, in which it was said he claimed "time and time again" that there were plans in place to deal with a pandemic.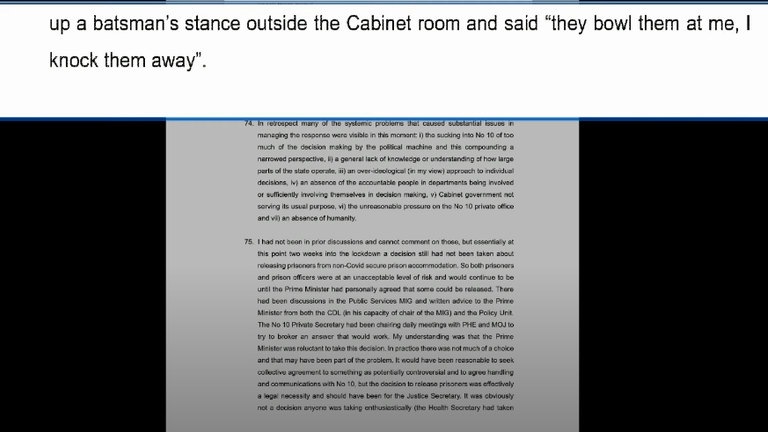 Ms MacNamara said she was "jarred" by one particular incident in which she went to check to see if he needed help but: "He took up a batsman's stance outside the cabinet room and said, 'They bowl them at me, I knock them away'."
She she said she included this in her evidence as it shows "nuclear levels of confidence that were being deployed which I do think is a problem".
She continued: "Going back to my humanity point, I think that this failure to appreciate all the time that what we were doing was making decisions that were going to impact on everybody's lives, and that meant lots of real people and real consequences.
"I don't think there was ever enough attention paid to that."