Only one in 10 voters who supported the Tories in 2019 have switched to Labour, according to a major new poll for Sky News.  
The exclusive YouGov survey of 5,621 voters found 11% of 2019 Tory voters would now vote for Labour while slightly more – 12% – have switched to Reform UK, a party to the right of the Conservatives.
The fact that Labour is attracting fewer former Tory votes than Reform shows the difficulty Sir Keir Starmer's party is having in getting Tory switchers.
Politics latest: PM says staffers are happy to work in No 10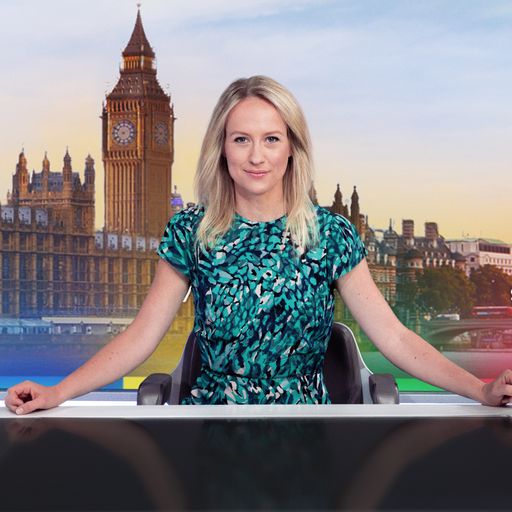 Politics Hub with Sophy Ridge
Sky News Monday to Thursday at 7pm.
Watch live on Sky channel 501, Freeview 233, Virgin 602, the Sky News website and app or YouTube.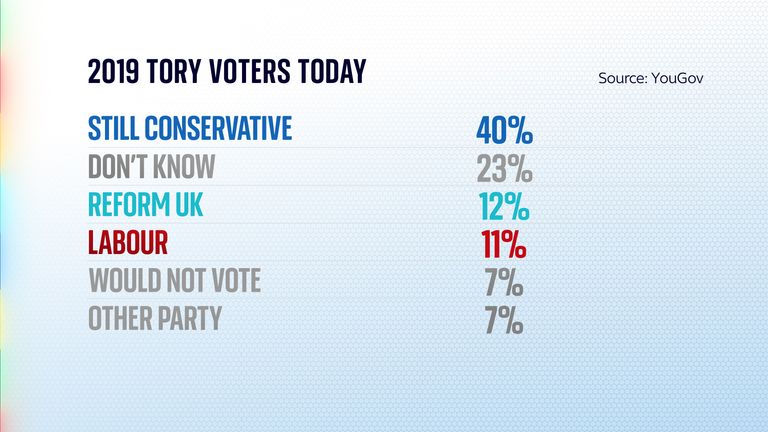 Less than half – 40% – of 2019 Tory voters say they are sticking with the Conservatives if there was an election tomorrow, while 23% don't know and 7% would not vote.
Former Tory voters from the 2019 campaign are perhaps the most important battleground for Conservative strategists at the next election, and their messaging and policy is designed to target this group in particular.
Some 44% of voters chose the Conservatives in the 2019 election, and this has dropped to 24% now.
So what happens to the ex-Tory voters – and whether they ultimately return to the party – is key.
The fact that only a small number have changed their allegiance to Labour gives the Tories a small ray of hope at a time when they are hugely behind in the polls – although even if they perform as well as possible in this group, they would still struggle to win.
The YouGov polling drills down into the views of 2019 Tory voters who now call themselves undecided. Here there are positive signs for the Conservatives.
Rishi Sunak gets a net positive rating, scoring +7 percentage points, which is much more positive than the public at large. However, Keir Starmer gets a very negative rating, which is much worse than the population as a whole.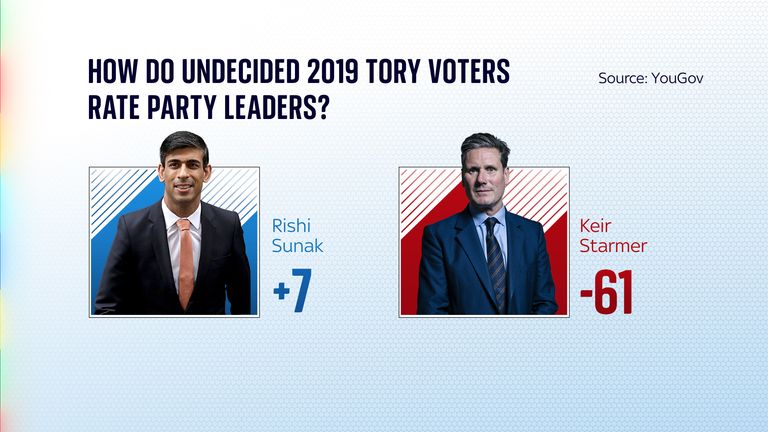 For the average voter, the most important subjects are the economy, health and asylum.
However, among undecided voters who supported the Tories in 2019, immigration is the top issue, even marginally higher than the economy.
This is why the Tories are targeting immigration as one of their biggest issues.
Read more:
Starmer 'renewed' by double by-election win
Sunak's popularity at lowest point ever
Patrick English, who conducted the poll for YouGov, said these were a "crucial set of voters".
"When you really drill down into what type of voters these are, who they are, what they think about issues, there do seem to be some encouraging numbers for the Conservatives," he said.
"They rate Rishi Sunak higher than they rate Keir Starmer."
Click to subscribe to the Sky News Daily wherever you get your podcasts
The pollster added: "They rate the Conservative Party higher than they do the Labour Party.
"They care about the issues the Conservatives want to talk about, such as immigration, to a much greater extent than those who are ready to make the jump to Labour.
"And that's why at the moment we think only around one in 10 of them are telling us that they're seriously considering voting Labour at the next election."