The family of an Israeli grandmother only found out she was dead when Hamas gunmen posted a video of her body on her own Facebook page.
One of Bracha Levinson's grandchildren, on holiday in Japan at the time, clicked on the gory image first after she noticed a notification.
"I see the horrible video of, you know, just her lying on the floor with a pool of blood around her head and gunmen – terrorists holding their guns above her shouting in Arabic," Hagar Shimoni said.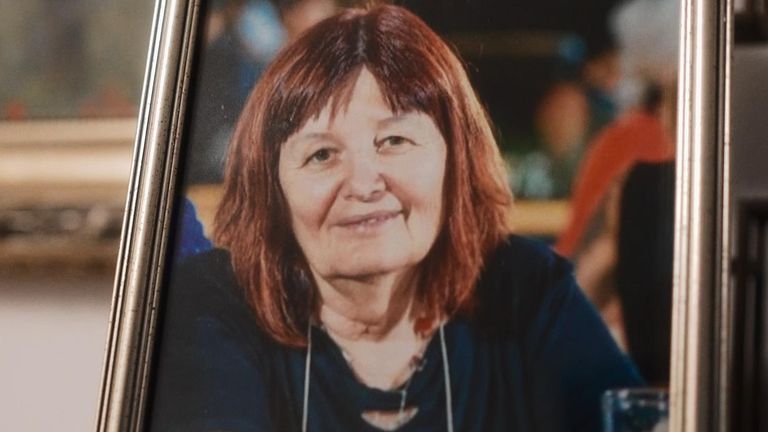 The 22-year-old university student asked the family WhatsApp group if anyone knew what was going on – but there was widespread confusion on 7 October as a major terrorist attack gripped the country.
"Then I call my cousin and she picks up, she's screaming, she's crying, she's saying: 'Did you see how they murdered grandma?'"
Exactly four weeks after Hamas militants assaulted Israel from the land, sea and air – in an unprecedented pre-dawn raid that the Israeli authorities say left more than 1,400 dead and more than 230 kidnapped – families across the country are still reeling from the trauma.
In response, Israel launched a war against Hamas inside the Gaza Strip – with troops pushing in on the ground and multiple strikes from the air.
The Israeli military says its forces are striking Hamas targets, but health authorities in Hamas-controlled Gaza say thousands of civilians have been killed, many of them children, in a conflict that could trigger a regional war.
Follow live: IDF strikes ambulance in Gaza
Israeli airstrike hits ambulance convoy

As well as focusing on the fighting, Israeli authorities are also gathering evidence about what unfolded when Hamas struck against multiple targets, killing civilians and security personnel.
In the newest insight, the military shared with Sky News what it said was an intercepted phone conversation from the day of the attack – purportedly between a Hamas commander and a militant on the ground about what to do with the body of an Israeli soldier killed in the fighting.
Sky News has not been able to verify the content independently, but mobile phone footage has emerged that appears to show militants in Gaza abusing the body of a dead serviceman.
In the audio the voice of a Hamas "operative" can be heard telling his commander that a soldier has been killed.
The commander replies: "Bring him and hang him … hang him in al Alam Square [inside Gaza]".
The operative then says: "OK. I told them this … They took him to the middle … I'm explaining to them."
The commander replies: "We don't want this dead one. Bring him and let the people play with him [the body]. Bring him and hang him in al Alam Square."
Read more:
Hezbollah leader warns of possible escalation
Arrest at pro-Palestinian protest at King's Cross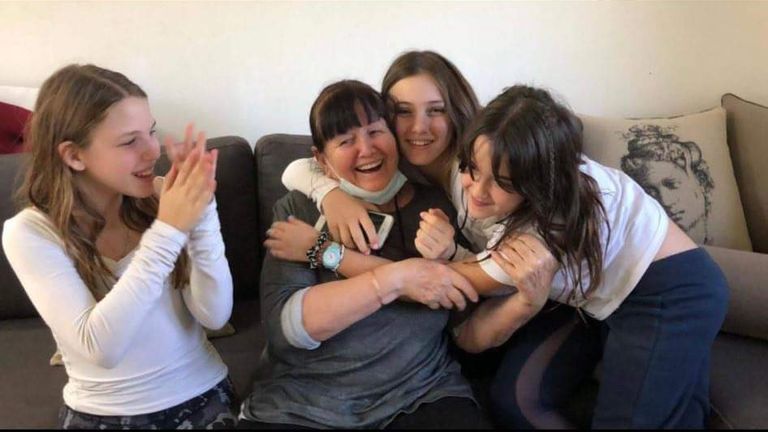 Bracha's family also give testimony about the horror that engulfed the grandmother's kibbutz in southern Israel, called Nir Oz.
Sitting with her mother in the family apartment in Tel Aviv, both of them dressed in black, Hagar said the loss of her grandmother had changed her.
"Since 7 October, I feel just the sadness walking with me and just deep heaviness that I have to carry along throughout my day," she said.
Her mother Shay, Bracha's daughter, said she was struggling to come to terms with what had happened.
"I was devastated. I, I was shocked. I, I couldn't … comprehend the situation … it was too big to understand..
"It took me many days and weeks to go to the point that I understand she's gone, she will not come back, and I need now to try to build my life without her."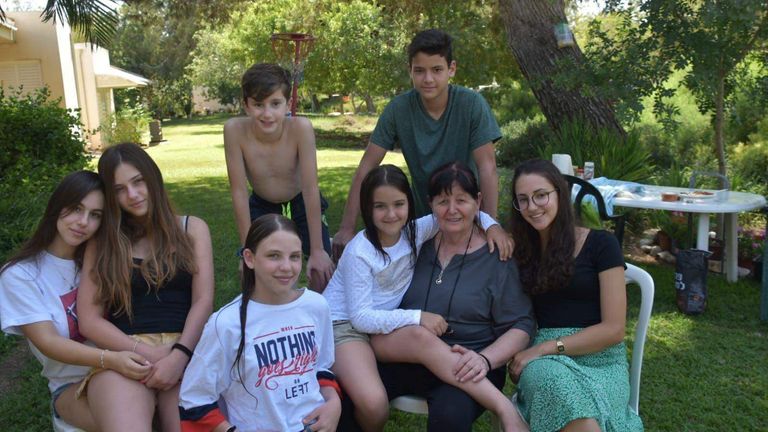 After shooting the grandmother, the Hamas gunmen burnt her house to the ground, Shay said.
"The terrorists just burnt everything with her inside – nothing left," she said, before Hagar added: "No body to bury."
Asked what her grandmother was like, Hagar said: "She was so full of love, hugging and kissing us all the time, just laughing with us."
The family is also desperate for news about a close friend and neighbour of their mother's called Adine Moshe, 72, who was kidnapped during the attack and her husband killed.
"We're waiting for you here. We want you come back. Be strong. Stay strong. We're really, really waiting for you. I hope she comes today. I really hope she comes today," said Shay.
Her daughter said many residents were seized from the kibbutz.
"Nobody deserves to go through this," Hagar said.