US Secretary of State Antony Blinken has said he is committed to the establishment of a Palestinian state in an unannounced visit to the West Bank – as Hamas claims Israel struck a refugee camp in Gaza.
Continuing his tour of the region, Mr Blinken met the Palestinian Authority president, Mahmoud Abbas, in the city of Ramallah on Sunday.
Mr Abbas demanded an "immediate ceasefire" to allow humanitarian aid to the Gaza Strip, which Israel continues to bombard in response to Hamas's attack on Israeli civilians on 7 October.
"We demand that you stop them from committing these crimes immediately," Mr Abbas told Mr Blinken, according to a spokesperson.
Follow live: More than 100 attacks on health facilities in Gaza
It comes as Hamas, which has run Gaza independently of the Palestinian Authority since 2007, claimed on Sunday that an Israeli airstrike killed at least 47 people in the Maghazi refugee camp.
Mr Blinken said the US is committed to getting aid into Gaza and restoring essential services there, State Department spokesperson Matthew Miller said in a readout of the meeting.
"The secretary also expressed the commitment of the United States to working toward the realisation of the Palestinians' legitimate aspirations for the establishment of a Palestinian state," he added.
Other key developments:
• Four-hour evacuation window closes for civilians in Gaza;
• Israeli minister reportedly suspended after suggesting atomic bomb on Gaza is an option;
• Boris Johnson meets Israeli soldiers in Jerusalem to "express solidarity";
• Lebanon's ambassador to the UK claims Israel has used white phosphorus in southern Lebanon.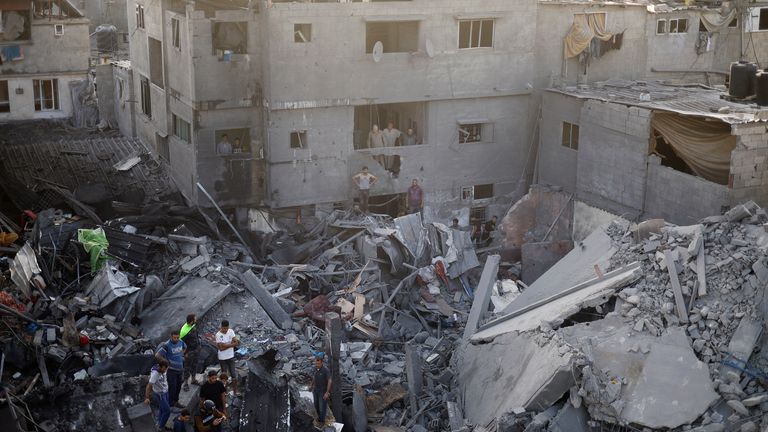 Violence has continued in the West Bank, with 121 Palestinians killed there since the war in Gaza began, according to UN figures.
About 200 people gathered in Ramallah on Sunday to protest Mr Blinken's arrival, which follows visits to Israel and Jordan.
Mr Blinken and Mr Abbas "discussed efforts to restore calm and stability in the West Bank, including the need to stop extremist violence against Palestinians and hold those accountable responsible", Mr Miller said.
Mr Blinken has already suggested an "effective and revitalised Palestinian Authority" would make the most sense to ultimately run Gaza.
He repeated his belief on Sunday, telling Mr Abbas the Palestinian Authority should play a central role in what comes next in the Gaza Strip, according to a senior State Department official.
The official added: "[The] future of Gaza was not the focus of the meeting but the Palestinian Authority seemed willing to play a role."
Mr Abbas' Palestinian Authority, which has limited self-rule in the Israeli-occupied West Bank, has seen its popularity drop amid allegations of incompetence and unpopular security arrangements with Israel.
It is unclear who would succeed Mr Abbas, 87, who is a staunch opponent of Hamas.
Demonstration in Turkey after global protests
As Mr Blinken headed to Turkey for talks over Gaza on Sunday afternoon, police fired tear gas at pro-Palestine protesters near a US air base, according to Turkish media.
According to the Karar newspaper and other outlets, the intervention came as demonstrators tried to cross fields to enter the base at Incirlik, in southern Turkey.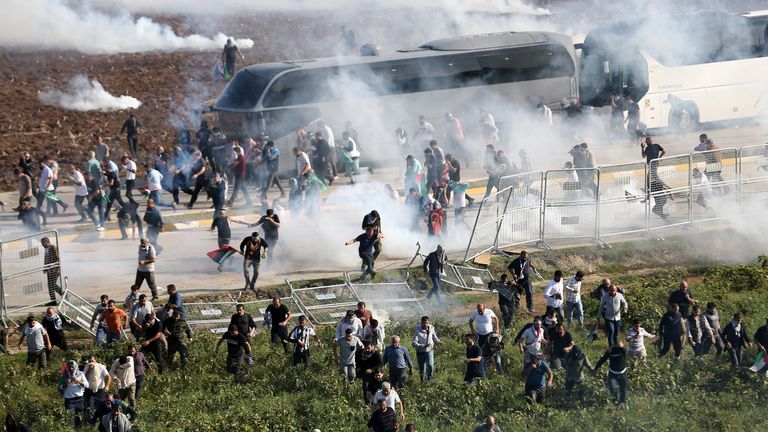 Hundreds of vehicles arrived in Incirlik on Sunday afternoon for the protest, which was the culmination of a convoy that set off on a 940-kilometre (585-mile) journey from Istanbul on Friday.
The demonstration was organised by the IHH aid group, which Israel has accused of links to Hamas, and came just hours before Mr Blinken was due to arrive in the country.
Israel's siege of Gaza has also stirred global alarm at humanitarian conditions, with pro-Palestinian demonstrators protesting around the world on Saturday.
Demonstrations were held in cities including London, Berlin, Paris, Istanbul and Jakarta, with hundreds of thousands calling for a ceasefire.
Protests were held around the world

There was also a protest in Washington to denounce President Biden's war policy and demand a ceasefire.
The Hamas-run health ministry has said 21 Palestinians from the same family were killed in Israeli airstrikes on Gaza overnight.
Read more:
Inside Gaza with Israeli troops vowing to 'make Hamas pay for what they did'
How much influence does Biden's America have over its ally?
It said in a post on its Facebook page that they belonged to the family of Abu Hasira and that the strike targeted a house that was "full of women and children".
Sky News has not independently verified the claim.