Gaza lost communications in its third total outage of the conflict so far, as Israel's military said it had divided the Palestinian territory into two.
Israeli media reported the country's troops are expected to enter Gaza City within 48 hours, having encircled the area.
Strong explosions were seen in northern Gaza overnight, with the conflict now in its fifth week after Hamas militants launched a surprise attack on Israel on 7 October.
Follow live: Israeli troops 'to enter major city within 48 hours'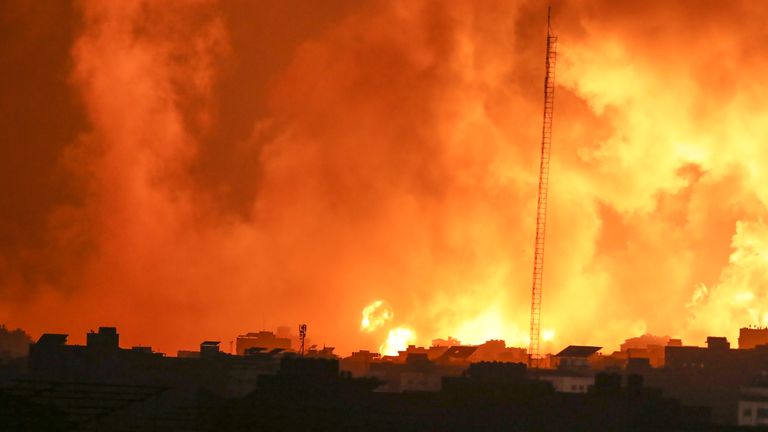 At the British embassy in Lebanon, some workers and their family members have been temporarily withdrawn as fears grow the war could spiral into a regional conflict – with Israel and Lebanon's Hezbollah group having traded fire along their border.
The UK Foreign Office has advised against "all travel to Lebanon" and warned of "civil unrest".
Israeli military spokesman Rear Admiral Daniel Hagari told reporters on Sunday the war has reached a "significant stage" as Israeli troops operate in Gaza, adding: "Today there is north Gaza and south Gaza."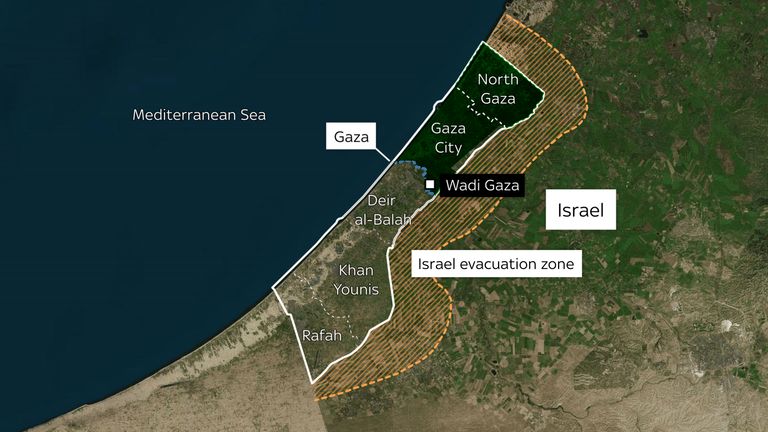 The temporary collapse in connectivity across Gaza on Monday, reported by internet access advocacy group NetBlocks.org and confirmed by Palestinian telecom company Paltel, has made it difficult for Palestinians and aid workers to contact people outside the territory.
Juliette Touma, a spokesperson for the UN Palestinian refugee agency, said it had "lost communication with the vast majority" of its members.
It came after Israeli warplanes were reported to have struck two refugee camps on Sunday.
The Maghazi refugee camp was one of those hit, with at least 40 people killed and 34 wounded, Gaza's Hamas-run health ministry said.
An Associated Press reporter at a nearby hospital saw eight dead children, including a baby, brought in after the strike.
The second airstrike was reported to have hit a house near a school at the Bureij refugee camp in central Gaza. Staff at al Aqsa Hospital told the AP at least 13 people were killed.
Israel has not confirmed it carried out the strikes.
Man loses four children in Gaza

Israel has said it will press on with its offensive with the aiming of crushing Hamas, despite US appeals for even brief pauses to get aid to civilians.
On the ground, Israeli forces in Gaza have reported finding stashes of weapons, at times including explosives, suicide drones and missiles as they operate in the territory.
Gaza's health ministry has said more than 9,700 Palestinians have been killed, with more than 4,000 of them children and minors.
Officials in Israel have said 1,400 people have been killed in the country during the conflict.
Read more:
Forensic teams identifying victims from mutilated remains
Met Police cuts ties with adviser who led controversial chant
Pregnant British woman 'trapped' in Cairo after fleeing Gaza
Meanwhile, US secretary of state Antony Blinken met his Turkish counterpart Hakan Fidan on Monday.
Speaking at the airport in the Turkish capital Ankara, Mr Blinken said they discussed efforts to expand humanitarian efforts in Gaza and to prevent the conflict in the region from spreading.
The US secretary of state said it would be seen in the coming days whether humanitarian assistance can expand in significant ways.
It comes after he met with Palestinian President Mahmoud Abbas in the occupied West Bank on Sunday, a day after meeting Arab foreign ministers in Jordan.
Mr Abbas, who has had no authority in Gaza since Hamas took over in 2007, said the Palestinian Authority would only assume control of Gaza as part of a "comprehensive political solution" establishing an independent state that includes the West Bank and east Jerusalem, lands Israel seized in the 1967 war.
His remarks seemed to further narrow the already slim options for who would govern Gaza if Israel topples Hamas.