A pro-Palestinian protest on Armistice Day will go ahead as it hasn't reached the threshold for a ban, the head of the Metropolitan Police has said.
Met commissioner Sir Mark Rowley said "people should be very reassured that we're going to keep this away from the remembrance and armistice events".
The prime minister and the home secretary believe it should be stopped amid fears some protesters could cause trouble and deface memorials such as the Cenotaph.
Sir Mark said: "If over the next few days the intelligence evolves further and we get to such a high threshold – it's only been done once in a decade – where we need to say to the home secretary we need to ban the march element, then of course we will do.
"But that's a last resort we haven't reached."
The Met commissioner said the force was working with organisers as they finalise their plans and is looking at what "extra conditions" might be needed.
Rishi Sunak has said the "provocative and disrespectful" march on Saturday – when many pause at 11am to remember people who died in wars – shouldn't be allowed.
He wrote to Sir Mark and said there was "a clear and present risk" that memorials such as the Cenotaph "could be desecrated".
Braverman criticises protests

Home Secretary Suella Braverman called it "entirely unacceptable to desecrate Armistice Day with a hate march through London".
She told Sky News anyone trying to vandalise the Cenotaph "must be put into a jail cell faster than their feet can touch the ground".
Organisers have said the protest will be "well away" from the monument, instead going from Hyde Park to the US embassy, and that it won't start until after the 11am silence.
Sir Mark said that legally there is "no mechanism to ban a gathering, a static protest" – but that "if there's a march towards the rally… that march in extremis can be banned".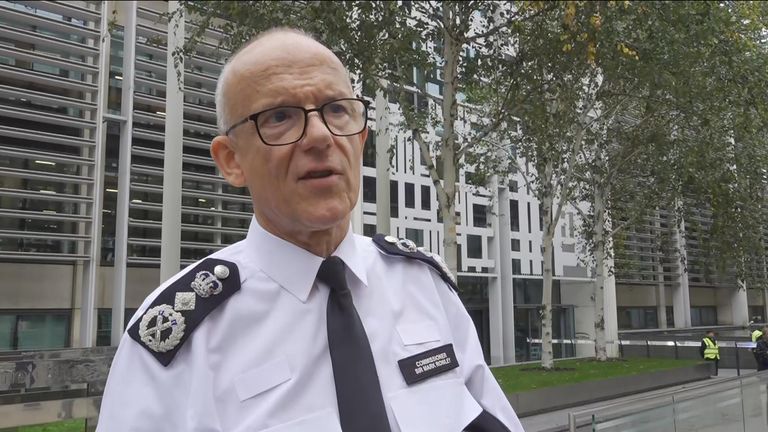 The last time a march was banned was an English Defence League event in 2011.
Police can ask the home secretary to approve a ban under the Public Order Act if they believe there will be serious public disorder, serious criminal damage, or serious disruption to the community.
The Met chief admitted concern about "splinter groups" and "troublemakers" but said arrests at previous protests were small considering the tens of thousands attending.
He refused to comment on the home secretary's view that the events are "hate marches" and said his job was to look at the operational facts and not get involved in debate.
The organiser of the march yesterday insisted it would go ahead despite another senior Met Commander urging them to cancel due to a growing "risk of violence and disorder linked to breakaway groups".
Palestine Solidarity Campaign said it would continue to work with police to ensure public safety.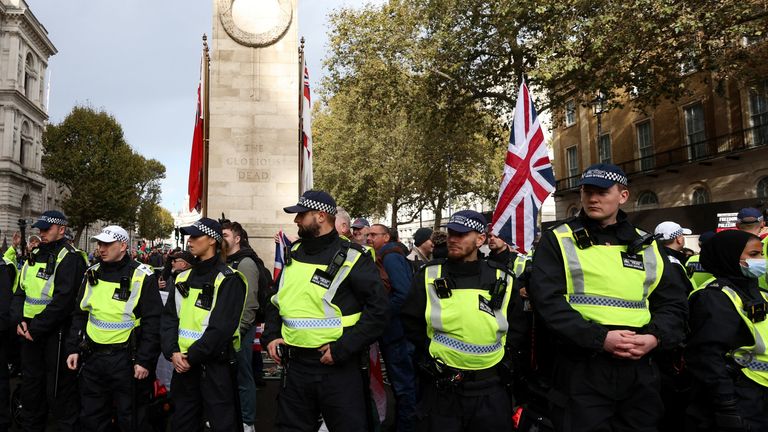 No demonstrations are planned for Remembrance Sunday, when veterans parade past the Cenotaph and politicians and royals lay wreaths.
Read more:
Can you ban a protest – and will pro-Palestinian march go ahead?
Tens of thousands have protested in London in recent weeks over Palestinian deaths in the Israel-Hamas war.
There were 11 arrests during a fourth week of protests last Saturday, when a dispersal order was authorised. People have been detained for offences including supporting a terrorist organisation and assaulting police officers.
Five people were also arrested at a pro-Palestinian protest at London's King's Cross station on Friday.