Hamas's leaders are "dead men walking", an Israeli military spokesman has warned, as the country claims its troops have advanced to the "heart" of Gaza City.
Israel has continued to bombard the Hamas-run Palestinian enclave since the militant group's attack on 7 October, which Israel says killed 1,400 people and left 240 civilians hostage in Gaza.
In the latest development, the Israeli military claimed it has killed a "senior Hamas weapons developer", Mahsein Abu Zina, as it targeted the militants' tunnel network beneath Gaza.
Follow live: Israel claims Hamas weapons leader killed
But Jonathan Conricus, the acting spokesperson for the Israeli military, said "many more" leaders remain.
"The directive is definitely to kill or capture all the leaders of Hamas, those who planned, facilitated and executed the murderous 7 October massacre in Israel," he told Sky News in Australia.
"We've said so clearly. All of them are dead men walking and it's only a matter of time inside Gaza and outside of Gaza, until these Hamas leaders will either be captured or killed by Israel."
Other key developments:
• Hamas-led health ministry says the number of people killed in Gaza since the start of the war has risen to 10,569;
• Shadow minister quits Labour's frontbench in protest at Sir Keir Starmer's position on the Israel-Hamas war;
• US Congress's only Palestinian-American Rashida Tlaib censured over Israel comments.
New satellite imagery analysed by Sky News shows several fires in Gaza City over the past two days, in a sign the Israeli military is concentrating firepower in the city centre.
Satellite radar detected only minimal damage in this area on 5 November, but Sky News is unable to confirm what's causing the fires that have broken out since.
Israeli forces say they have encircled Gaza City, which is the Hamas militant group's main stronghold in the territory.
With the war now entering its second month, UN officials and G7 nations stepped up appeals for a humanitarian pause in the hostilities to help alleviate the suffering in Gaza.
Buildings have been flattened and basic supplies are running out, while Palestinian officials claim more than 10,000 people have been killed, 40% of them children.
Read more:
How Israel split Gaza into two
Which countries are calling for a ceasefire?
The level of death and suffering is "hard to fathom", UN health agency spokesperson Christian Lindmeier said in Geneva.
Palestinian media reported clashes between militants and Israeli forces near al Shati refugee camp in Gaza City.
Israel, meanwhile, claimed on Tuesday one of Hamas's leaders in Gaza, Yahya Sinwar, has been cornered in his bunker.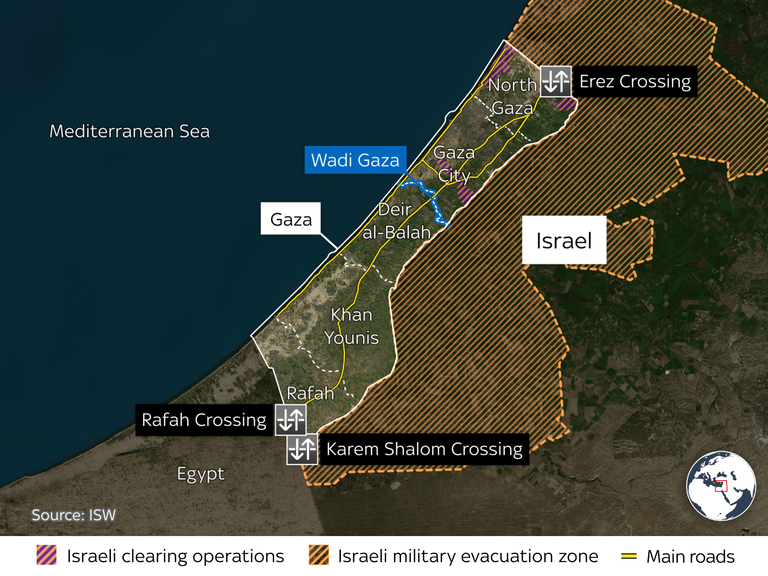 'No ceasefire until hostages free'
Should Israel achieve its stated goal of eliminating Hamas in Gaza, it is not clear what its long-term plans for the region would be.
Primer Minister Benjamin Netanyahu said on Tuesday Israel would seek security responsibility for Gaza for an indefinite period after the war.
Officials, however, said Israel is not interested in governing the enclave.
Read more:
Lebanon's foreign minister 'less pessimistic' about war spreading
Woman describes how she escaped Hamas capture – but husband and son were taken hostage
In the meantime, Israel says it will not agree to a ceasefire until the hostages are released, while Hamas says it will not stop fighting as long as Gaza is under attack.
This comes despite Israelis expressing fears the military operations could endanger the hostages, who are believed to be in the tunnels.
The fighting is concentrated in the north and Israel has repeatedly told civilians to flee to the south – but it has been bombing southern areas as well.