"Chess saved my life," Kamila says.
There is mischief in her eyes as she moves her queen in a piercing diagonal, opening up my crumbling defence. Checkmate is just moves away, a formality.
Once a rising chess star in eastern Ukraine, Kamila Hryshchenko was forced to leave her home in Kramatorsk when the bombs started to fall around her.
Still just 21 years old, she now lives in Hull after an international network of chess players helped whisk her and her mother to safety.
After switching to play for England to show her appreciation, Kamila Hryshchenko is now one of the highest ranked players in the country. The top spot? That's now occupied by a Russian.
As Nikita Vitiugov makes his debut for England in the European Team Chess Championship today, we dive into the enthralling world of professional chess…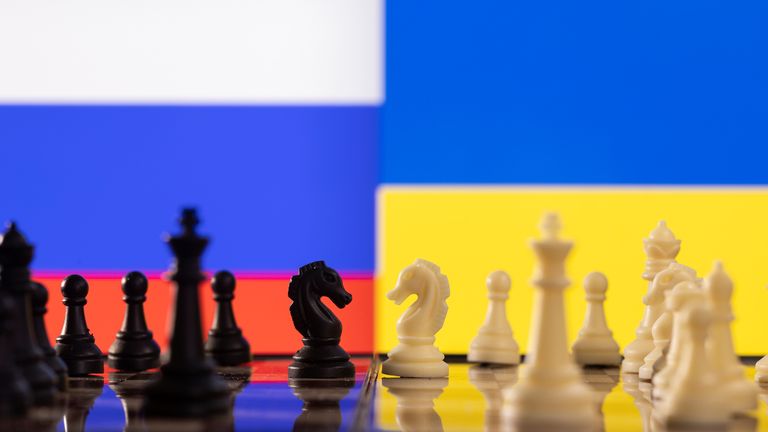 'We knew our world chess family was going to help us'
When Vladimir Putin unleashed his war on Ukraine in February 2022, the city of Kramatorsk came under regular attack from missiles and bombs.
The first days of the invasion were marked by chaos and confusion, and incredible danger.
"I wanted to leave but we didn't know what was going on or where Russian soldiers were," Kamila tells Sky News.
They reached out to Andrei Ciuravin, a Ukrainian already living in the UK, who got the wheels in motion for Kamila's long journey from Ukraine.
"Chess is a family, especially in these hard times. We knew our world chess family was going to help us."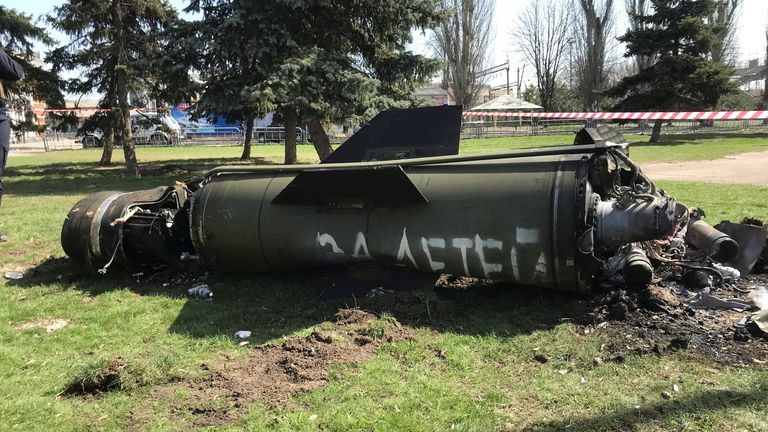 Kamila and her mother left via the busy Kramatorsk railway station, which in the early days of the war was constantly packed with thousands of people trying to flee west to relative safety.
A few days later, a Russian missile attack on the rail hub killed more than 30 people and wounded over 100 others.
Their hair-raising rail journey from Kramatorsk in the east to Chernivtsi on the western border with Romania saw their train constantly stopping as the driver received warnings from the Ukrainian army about bombs and blocked routes.
"Everything was connected with chess," Kamila says, explaining how the Romanian Chess Federation and friends from the chess world helped them with a hotel and in getting her visa to the UK.
On 24 April, 2022 they arrived in England and were taken in by a family of chess players in Chichester – one month after leaving Kramatorsk.
Kamila and her mother eventually moved to Hull where they live now. Kamila studies computer science at the University of Hull – and of course continues to play chess.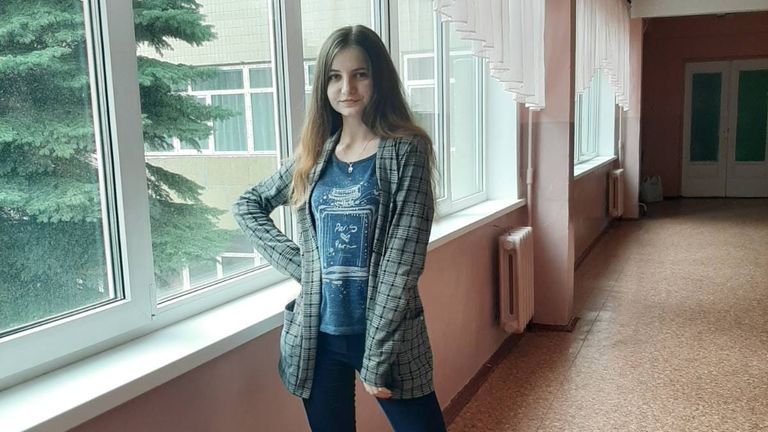 Playing chess in the trenches
"That's interesting," Kamila says. She's looking at our chessboard – we're on our second game now – and considering her next move.
My king is under pressure and I've done my best to surround it with my remaining pieces. Have I managed to ward off the attacks from her rooks?
"Am I gonna lose? I don't like it," she quips. Maybe some hope for me, I wonder.
"Ah, I like it," she adds, suddenly smiling. "Check." It's not long before it is, once again, checkmate.
With so many famous players hailing from Ukraine and Russia – after the decades of Soviet domination of the game – it's unsurprising that the war has sent shockwaves through the world of chess.
Like countless other Ukrainians, Kamila had to leave her home because it was not safe anymore.
For men it has been mostly illegal to leave the country, and many have been called up to join the armed forces. Chess players are no exception.
Grandmaster Igor Kovalenko, ranked 60th in the world, didn't know how to fire a rifle before he joined the army.
The 34-year-old was deployed to the fiercely contested Donetsk region of Ukraine. While his chess is mostly on hold, he was pictured playing an online event from the trenches during a quiet moment.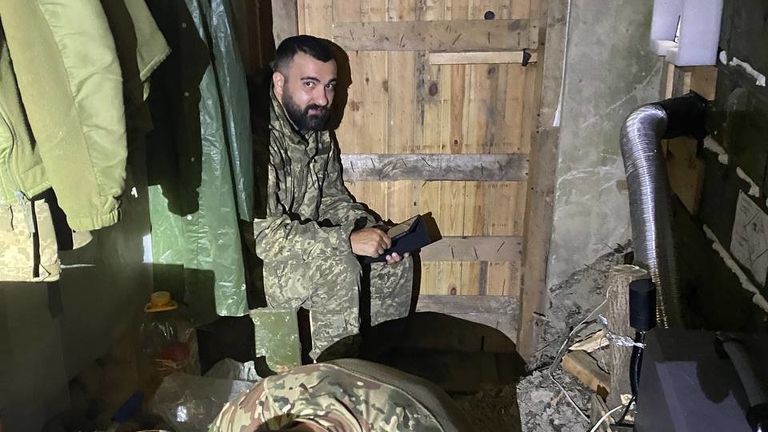 In East Yorkshire, Kamila and her mother spend much of their spare time doing everything they can to raise funds for Ukraine.
Her decision to change her chess federation from Ukraine to England – and thus play under the English flag – was a difficult one, she says.
"It was a very hard decision for me. It was so personal because of Ukraine and the war, and I want to support my country.
"When I changed federation I was thinking it's better for my chess career and I can pay back lots of English people for their support here, supporting my chess."
"We still support Ukraine," she adds. "For me it's better to help physically by fundraising and volunteering than just to have a flag next to my name."
Read more:
Ukraine war not at 'stalemate', Zelenskyy says
Ban on Russian football teams to stay in place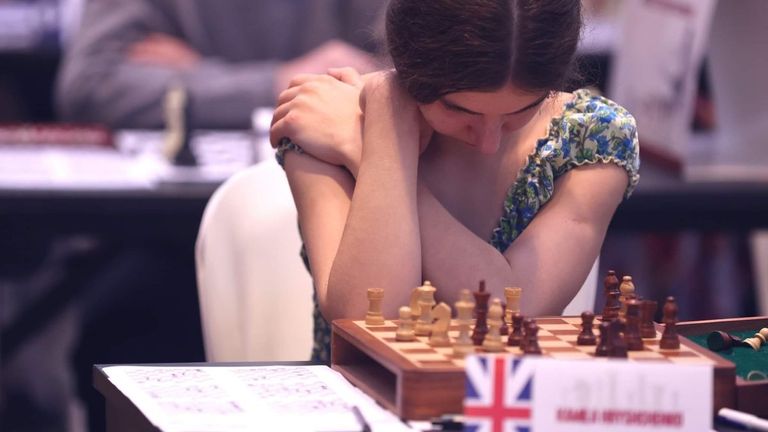 Russian Vitiugov now England's top-ranked player
As Russian tanks bore down on the Ukrainian capital in the first days of the invasion, an emergency meeting of the International Chess Federation (FIDE) council was held.
It voted to condemn the use of military force and barred Russian and Belarusian players from competing under their national flags.
Two months later, 44 top Russian chess players including a host of grandmasters signed an open letter to Vladimir Putin criticising the war and calling for a ceasefire.
"We share the pain of our Ukrainian colleagues and call for peace," the letter said.
Since then, a series of senior Russian players have defected to other countries in protest against what the Kremlin is doing in Ukraine.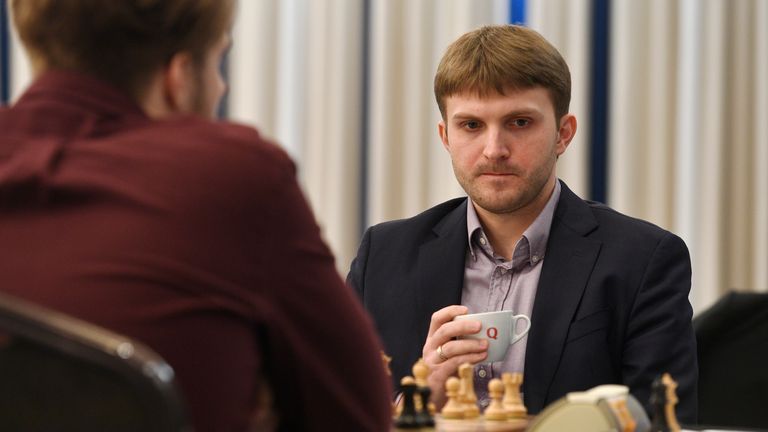 They include Nikita Vitiugov, 36, who has swapped St Petersburg for East Anglia.
Ranked 31 in the world, he's now the top-rated player in England and is expected to make his debut under his new flag today at the European Team Chess Championship in Montenegro.
Changing country was a quick decision for Grigoriy Oparin, a grandmaster who grew up in Moscow and started playing chess when he was just four years old.
"It was just a total shock for me," he said of the February 2022 invasion. "I could not believe it was happening.
"It was just so shameful that my native country started this war."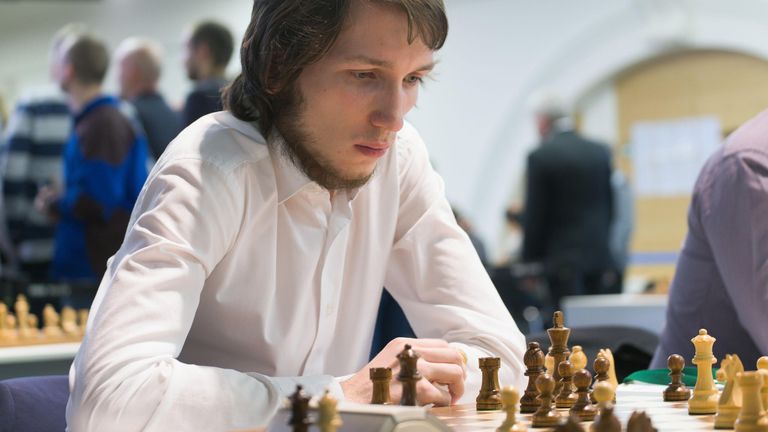 Grigoriy, 26, told Sky News that he immediately began the process of changing from the Russian Chess Federation to the US Federation.
And while he has been able to switch his chess flag to the stars and stripes, he has been left unable to compete in official events for two years unless he agrees to pay a 35,000 euro (£30,400) release fee to the Russian Chess Federation.
"It's a little bit unfortunate that I cannot play, but I think it's such a minor issue considering everything that's happening in the world."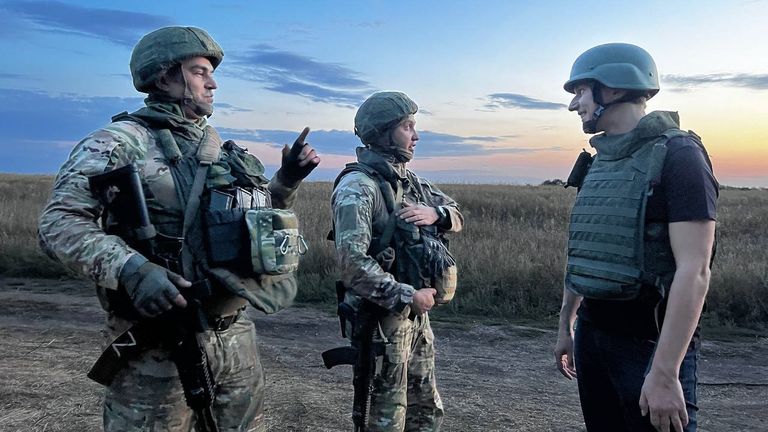 Karjakin's support for war and self-imposed ban from world chess
But not all Russian chess players are opposed to the war.
Sergey Karjakin has sparked anger and criticism for his vocal support for Vladimir Putin's efforts to annex Ukraine.
The world number nine, who himself was born in Ukraine, posted an open letter to the Russian president on social media just days after the invasion.
He discussed the "demilitarisation and denazification of Ukraine and its ruling regime".
"I express for you, our commander in chief, full support in defending Russia's interests, our multinational Russian people, eliminating threats and establishing peace!", he told Mr Putin.
Karjakin was handed a six-month ban by FIDE and still refuses to play in any tournament where he cannot play under a Russian flag.
Since then he has courted further controversy with his visits to occupied areas of Ukraine, including photo ops with Russian soldiers.
Among the questions about her dangerous journey to the UK and her love for Ukraine, I ask Kamila if she still enjoys playing chess, after so many years and so much else going on in her life.
"Every chess player has those moments when you want to give up," she says.
"I still love it. I can't really imagine myself without chess."